After download and install, please open the program timer stopper And under the 'browse' to find 'file.exe' trial software, then click open. 'In the' Choose New date.
Update August 23, 2017Time Stopper new version: Cracklock 3.9.45The Time Stopper May Not Work in Windows 10; therefore, this video does not help much.
Time Stopper
Download Time Stopper For Windows
Running a trial software is annoying, especially when we can't find the illegal serial number or crack on net. Usually, crackers or hackers—or whatever they might be called—do not pirate some "unpopular" but very useful applications, although some of them might be still interested to help minorities who use those "unpopular" applications.
Time Stopper is a tiny utility which eliminate the time limit existing into trial software usage period. Time Stopper works with any software executable file and practically will extend the trial period of the program for an unlimited amount of time.
So, I had experiences too. I had a software with 30-days trial time and I didn't have much money to buy the license. I loved that software so much and I wanted to use it freely forever. But I was so unlucky: I didn't find the serial numbers nor they keygen on net. Some of links that appeared on Google search result were 90% fake (only links that linked to other links), and 10% malware included—and I never like malware, so even if the keygen was working, I would never put my machine in danger!
Other experiences had finally led me to look for a save application that can "remove" any trial time from a trial-ware. The search was ended in Time Stopper. And I bet that you already know it.
Time Stopper is a freeware that would "stop" our trial-ware from being expired, forever! I mean, we still can continue using the software even after its trial time is end. Not by modifying registry or modifying time and date of our machine—like we often do when we cannot find a working serial number or keygen. I don't know how to describe the way Time Stopper works, but it really stop the trial time. It seems like creating its own environment to "force" the expired application to run as if it were not expired yet.
Well, I have been using Time Stopper for at least 2 or 3 years recently. And I love it so much. I use it to stop the trial time of SwishMax, ToonBoom, SDL Trados, CafeTran, etc. But mainly, I use Time Stopper only for "testing" the software, not for real works. I am not an animator, but I like doing a little experiment with SwishMax or ToonBoom in my spare time. So I use Time Stopper because I couldn't imagine, if the time I have spare time is the time of the trial time's end. By using Time Stopper, I can enjoy my trial time longer!
I also use Time Stopper to make the use of Trados and CafeTran longer. But don't worry, I never use those two applications in my translation works. Whenever I get translation jobs, I always use Across, that is totally freeware. I use Time Stopper to stop Trados' and CafeTran's trial time only to learn how to use them, to dig deeper to see their greatness. Because I only "test" them when I have spare time, so I decided to "prolong" their trial time so that I can test them anytime!
Basically, Time Stopper is intended for an educational reason, especially to prolong a testing time (if 15 or 30-days of trial is not enough). Time Stopper may not be used to prolong the use of a licensed software in business environment. So, although you know it is useful to make your joy of using a trial-ware longer, I am not recommending you to misuse/abuse this software to gain personal benefits.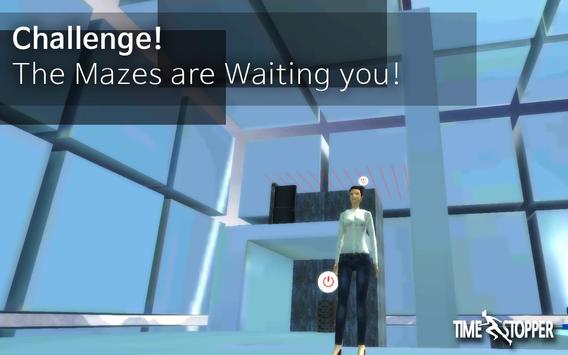 I don't really know how it works. But, when we are targeting a trial-ware's <.exe> file using Time Stopper, it needs some conditions:
The trial-ware is still in its trial period.

Time Stopper will create a new shortcut to "the unlimited time" of our trial-ware. So, do not execute the original trial-ware's shortcut (better to remove it) and do not execute the original trial-ware's <.exe> file. If you execute the original shortcut or the original <.exe> file, you will get error message such as "the software is rolled back bla-bla-bla…. "and you cannot use the software anymore.

Time Stopper cannot be used for demo-mode applications, antivirus, applications that stay or active in the memory, or any other online applications and add-ins. It's only for offline applications.
For the tutorial, I prefer to see the Time Stopper's official page. But if you do not want to visit it, let me explain it shortly.
After you download and install the Time Stopper (I will not show you how to install it because I know that you've already known how to install a software), please install your trial-ware (if you haven't installed it). If you have installed your trial-ware, now jump to step number 2.

On the first column, point out your trial-ware's <.exe> location. If your trial-ware has more than one <.exe> files, contact/consult its developer or ask your friend(s) who know more. Or right-click on your trial-ware's shortcut, and click Properties. There, you'll find the full path to the main <.exe> file.

Now, after you find the <.exe> file and click OK (return to Time Stopper interface), choose the date to "lock" your trial-ware so that it will always run as if it were still in that day. Choose "tomorrow" from your current date (e.g.: today is March 09, then you must choose March 10).

Put the shortcut name in the lower column and click create shortcut! Now, the stopped trial-ware's shortcut is accessible right from your desktop. If you want to put it in your start menu, just cut or copy this shortcut to C:ProgramDataMicrosoftWindowsStart MenuPrograms. After that, please remove the original shortcut to prevent you from executing it.